Bespoke timber frame designs in Hampshire
We provide a professional Bespoke timber frame design service in Hampshire by Walrus Carpentry Ltd
At Walrus Carpentry Ltd, we specialise in the processes of planning, designing and constructing bespoke timber frames, and offer our professional service to all customers throughout Southampton. Over the years, our expert construction team has gained broad experience in all aspects involved in constructing bespoke timber frames for a diverse range of property types and sizes. With this, we are a quality team to undergo your bespoke timber frame service with.
Our specialist team manufactures the highest quality bespoke timber frame panels for those who are about to undergo a new property development, extension project and more. At Walrus Carpentry Ltd, we have been working in the trade for a number of years, and with this, we are all broadly experienced in designing, constructing and erecting timber frames of all shapes and sizes. This allows us to accommodate all of our customer specifications, no matter how big or small their construction project may be.
At Walrus Carpentry Ltd, we work with the most up to date equipment and machinery to ensure the frame measurements for all bespoke projects are exactly as required, as well as using the highest quality timber to ensure the best possible finish is achieved.
To ensure the correct measurements are taken, we will request the architect's development design, as well as the engineer's structural calculations, allowing us to manufacture each frame to the exact measurement. This way, each frame is unique to the development its self, ensuring the erection process runs smoothly from start to finish.
Some of the benefits of bespoke timber frames include:
Can be designed to any shape or size
Traditional designs can be replicated
Short time frame to construct
A cost-effective way to build a property or structure
No weather dependency
Savings on prelims
Lightweight structure
Savings are usually made in foundation costs
And more.
Are you looking for an expert team in Southampton to design and construct a bespoke timber frame for your property or structural development? Give us at Walrus Carpentry Ltd a call today on 07801750513 to arrange a consultation, for a no-obligation quote and any additional information you require.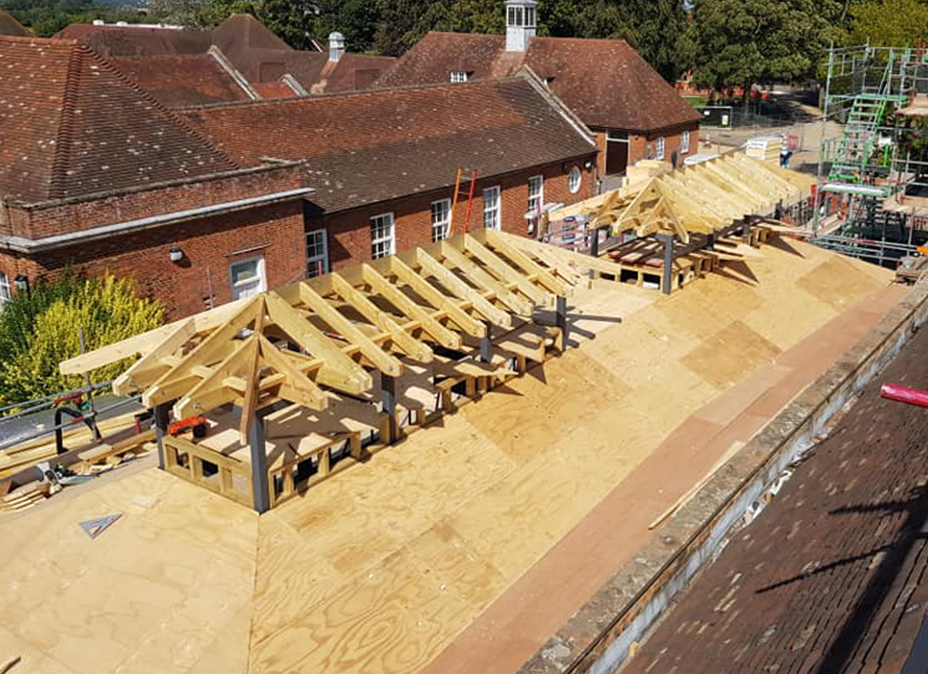 How it all works
The process
Contact our carpentry team
Contact our experienced team of carpenters and we will be glad to help you with any questions you may have.
1
Receive a quote and time slot
We will provide you with a quote and a time slot for our carpenters to come and visit you.
2
We will solve your problem
Our carpenters are highly qualified and will always provide a solution to any carpentry problem you might have.
3